New Zealand offers an intriguing collection of remarkable geological features and diverse and breathtaking landscapes. Not surprisingly, the natural wonders in New Zealand are on the must-visit lists of visitors. While there is an endless array of unique sites, right from glaciers to hot geysers, here are six must-see natural wonders in New Zealand.
Six Unmissable Natural Wonders in New Zealand
1. Tāne Mahuta
The Kauri forests, known to be among the most ancient forests globally, are among the many spectacular natural wonders that define New Zealand. These forests feature 'kauri,' the Maori name for Agathis australis, a coniferous tree found on North Island. The Waipoua Forest north of Dargaville is the most famous among all of NZ's kauri forests. As the most prominent native forest tract in Northland, the Waipoua Forest houses rare birds and towering trees. This is where you can find the 'Lord of the Forest,' the Tāne Mahuta, a giant tree measuring 50 meters high with a whopping diameter of 4.4 meters.
Estimated to be approximately 2000 years old, the Tane Mahuta is the tallest tree in New Zealand. A short walk in the Waipoua Forest is all you need to get to this awe-inspiring natural wonder.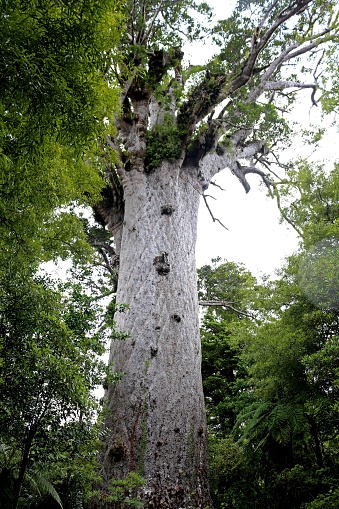 2. Devil's Bath
Devil's Bath is a neon-green surreal pool of still water that sits in a depression created by what is believed to be a massive eruption from the earth that occurred 200,000 years ago. This must-see natural wonder is located in Waiotapu, an active geothermal area in the Taupo Volcanic Zone and a short drive from Taupo and Rotorua. The Maori term for 'sacred waters,' Waiotapu is renowned for its unique geothermal sights, from geysers to steaming mud bogs. The water at Devil's Bath gets its bright green-yellow color from sulfur deposits that float on the lake's surface.
The color of the boiling hot lake varies based on the minerals in the water and the angle of the sun's rays. Iron gives the water an intense green hue, while yellow comes from sulfur. The sulfur deposits emanate fumes with a characteristic "smell." The magic potion is undoubtedly one of the top favorites for families, children, and everyone else.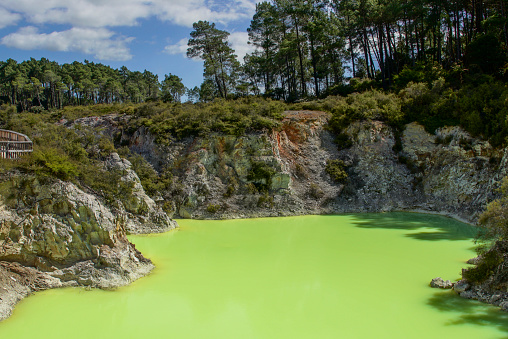 3. The Pancake Rocks
As one of the most talked-about natural wonders in New Zealand, the Pancake Rocks are nature's work of art set in motion 30 million years back. First, as layers of sand and small marine creatures were buried and compressed on the ocean floor, it created multiple soft and hard limestone layers. Then, the ocean floor was lifted due to earthquake activity, and the softer sandstone was slowly eroded by wind and rain. The result is the magnificent view of ravines and cliffs with horizontal slices resembling stacks of pancakes.
Visiting the Pancake Rocks during high tides is recommended as the sea bursts through the vertical blowholes creating a mesmerizing geyser effect. An easy walking track takes you all along the Pancake Rocks located in the Paparoa National Park, at the edge of the Punaikaki settlement. Enjoy the geological oddities, beautiful coastal forest, spectacular views, and the rich diversity of marine life on this walk.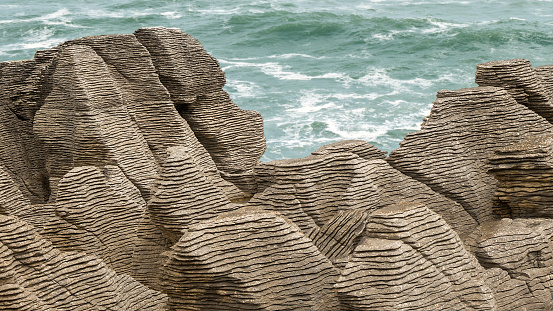 4. Fox Glacier
In the mood for some adventure? New Zealand is not only famous for its natural wonders but offers a host of outdoor adventure opportunities. Explore the marvelous Fox Glacier, which spans 8.1 miles in Westland Tai Poutini National Park, packed with constantly transforming terrain of glaciers and ice caves flanked by mountains and rainforests.
As one of the most accessible glaciers globally, Fox Glacier's stunning ice caves are best explored on guided tours. You can enjoy magnificent views of the glacier from Lake Matheson, located on Cook Flat Road. Other ways to soak in the stunning views are to book a scenic flight or go on an ice-hiking adventure. A short walk from the center of the town, also of the same name, will take you to glow-worm caves.
The Franz Josef Glacier sits adjacent to the Fox Glacier and offers a stunning stretch of crevasses, tunnels, caves, and seracs of the Southern Alps. You can catch a helicopter to explore the gorgeous landscapes of this icy beauty.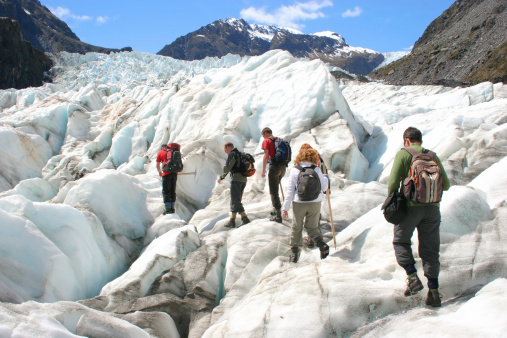 5. Te Puia
Your experience of natural wonders in New Zealand is not complete without a visit to the geothermal wonderland, Te Puia. This is where you can find the Southern Hemisphere's largest active geyser, Pōhutu. The dramatic geysers and bubbling mud pools provide an intriguing backdrop, while you can also get up close and personal with traditional Maori weavers and carvers.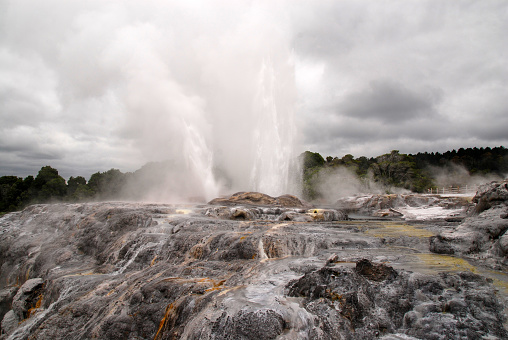 6. Milford Sound
It is no surprise that Milford Sound, located in Fiordland National Park, is called the world's eighth wonder. The stunning natural wonder in New Zealand is sought after for its ink-dark waters, dramatic mountain peaks, and forest-clad cliffs.
Carved by glacial activity that dates back thousands of years, cascading waterfalls add to Milford Sound's charm. As a result, there is no shortage of things to do and see, from scuba diving to an underwater observatory to view rare marine life.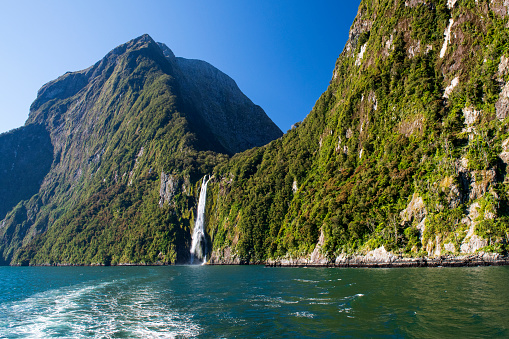 If you're ready to hop on a plane to travel to New Zealand, keep the planning easy by looking searching through itineraries or learn more about New Zealand through our country wiki guide.